Electric rollers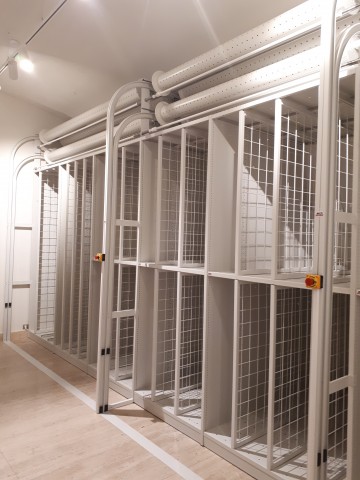 Specialist rollers for storing museum exhibits are powered by an electric motor.

The average speed of descent and entry of the fights is 5 cm/s. The built-in soft start and stop function allows for the elimination of vibrations and smooth movement. They run on specially profiled tracks that are adjusted to the storage height (up to 4 meters).

Thanks to this storage solution, a significant increase in storage space is gained.

As standard, they are powder coated with epoxy paint in RAL9002 color. Painting takes place after all holes and technological bends are made. In order to provide better anti-corrosion protection, the steel sheet is protected with a phosphate coating with a thickness of min 500 mg/m2.

They are controlled by a special remote control.

For more information, please contact our sales department, who will present the possibilities and details of construction and technology in detail.