Picture mesh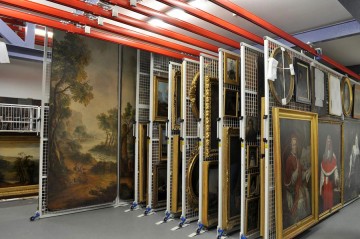 Międzynarodowe Centrum Budownictwa Sp. z o.o. offers a choice of two types of image storage systems:
retractable picture grids.
standard sliding racks with nets.
The basic differences of the above-mentioned systems are their sliding planes and the structure itself. Picture grids allow for forward and backward movement thanks to the mounted beams, while the racks allow left and right movement on a specially adapted chassis.

Both systems have many advantages. Retractable picture grids have the advantage that the pictures are easily accessible and the space is used very efficiently. To view the image, you must slide the grid forward. Mobile picture racks optimally use the available space with a single corridor. The mobile racks can be moved individually or in batches, thus using a single aisle to access the collection and thus optimizing storage capacity. Both operate with near-zero vibration and are extremely stable. The mesh sizes match the dimensions of the artwork and the space available. It is possible to use an electric drive in a mobile storage system.

Additionally, it can be equipped with a handle. It is strong, durable and easy to install and carry.