Safety Master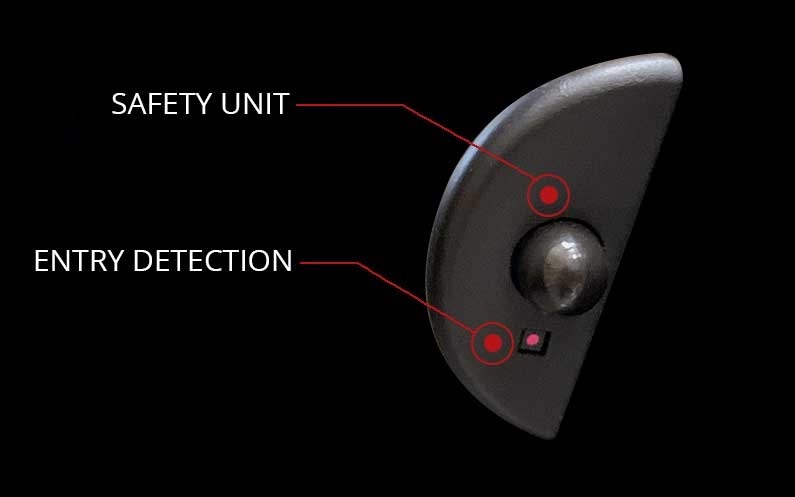 The new standard in safety
In November 2020, we introduced a new solution that guarantees the complete safety of the COMPACTUS DYNAMIC II electric rack system. Designed for full protection. Multiple systems in one elegant unit that keeps users and products safe. We consider this to be a must for all electronically controlled systems. The safety level of our Compactus® series has never been so high.
Entry detection
The passive infrared (PIR) technology in our modern system detects a person entering an open passage. The combination of the camera with our LED inter-rack lighting system ensures that the open corridor is used as long as the lights are on. Detection of entry allows the system to know if someone will enter a closing corridor and stop the movement of the system, further increasing the safety of users.
Person or object detection
The automatic slide safety system takes a picture of the open and empty passage. Whenever someone wants to close a doorway, the system compares the actual situation with the saved image of an empty doorway. If people or objects (larger than A5 or 300 cm2) are detected in the doorway, the door will not be closed and it will return to the passive safety procedure (system movement is stopped and the "eye" icon is displayed on both sides of the door. The user must press both " eyes ", one by one while looking at the open passage. This visual safety ensures that the user looks into the passage and makes sure that he can pass the mobile rack)
GDPR compliant
Our automatic slide safety system is GDPR compliant, only storing an image of an empty transition. The processing of images of the empty transition and the current situation between the rack is done directly in the camera, at the moment, it is not possible to download or export the image.
Additionally, we invite you to watch the video showing the work of the new security system: <click here>